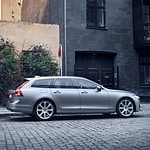 You can't go wrong going with a "safety first" approach to purchasing a vehicle. This is perhaps the best way to do it because you don't want to be in a position where you have something that doesn't provide you a quality ride while also keeping you safe. The Volvo V90 does both.
From stability control to pretensioners, the Volvo V90 has thought of just about everything when it comes to keeping passengers safe. They have a security system that even disables the ignition to the vehicle in the event that someone attempts to steal it. That is a big deal as it means that thieves are kept at bay so to speak.
You can gain a lot of control over how safe your ride is and how you decide to go about enjoying the other aspects of your life. You have to take advantage of those kinds of things when and where you can.