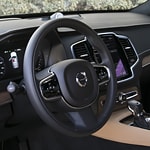 When it comes to luxury SUVs, the automobile market has more than enough contenders. On the other hand, the Volvo XC90 just so happens to be one of the best. This particular SUV is head and shoulders ahead of the competition because of its many features. Consumers can expect a high-performance engine, advanced innovations, and supreme comfort.
The Volvo XC90 is Scandinavian luxury as well as first-world performance. This SUV utilizes refined power from its powertrain lineup. Depending on the trim choice, the XC90 will come equipped with front-wheel drive or all-wheel drive. Forced induction is the way to go as this vehicle enhances its performance via turbocharging and supercharging. Four-cylinder engines are being used, and horsepower ranges between 250 to 316 ponies. The T8 model takes things further by generating 400 ponies and 472 pound-feet of torque. An electric motor's hybrid features are also instituted.
Get a free test drive today by speaking with our reps.